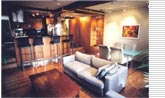 Latest News | Archive | Press



Launch of Luxury Corporate Housing provider
ARC Corporate Housing has launched a new service that business travellers have been waiting for. It has a selection of the world's best serviced apartments in major cities worldwide.


Perks that are more than skin deep
Business travellers like their perks, but full body massages for every customer, sounds too good to be true. Yet this is what the Apartment Rentals Corporation (ARC) is offering customers that book one of their luxury corporate apartments.
Full Story >>

ARC redefine the corporate housing landscape
The Apartment Rentals Corporation (ARC) is on a mission. Its mission is to banish cramped hotels and seedy long stay apartments from the list of many stresses travellers face when relocating or on an overseas business trip.


ARK Corporate Housing
Welcome to ARC Corporate Housing
Full Story >>

Extended Stay Apartments in Chicago
A varied selection of luxury extended stay accommodation in Chicago means there's a place to suit your style.
Full Story >>

Luxury Serviced Apartments in Glasgow's West End
ARC is pleased to offer its customers the Dreamhouse serviced apartments in Glasgow's West End.
Full Story >>

ARC welcomes Luxury Hotels specialist Hotique
ARC has teamed up with Luxury Hotels Specialist Hotique, which provides independent reviews and ratings for unique hotels worldwide.
Full Story >>